(MA) The Poe Show IV
Reviewed by Heather Emerson
In 1848, after his beloved wife's death, famed American writer and poet Edgar Allen Poe came to Lowell, Massachusetts as part of the lecture circuit. He left a strong impression and this admiration lives on, with musicians, dancers, and poets coming together to celebrate his life and works in the Edgar Allen Poe Show IV, presented by Meg Smith/Morgana Mirage, at Lowell's own Athenian Corner. The show was dedicated to Meg's late husband, Lawrence Carradini (1953-2014), who had been an active partner to her in the arts world and in life, as well as a major cultural organizer in Lowell. I knew Larry, and there was no question his spirit was settled in and enjoying the show.
The evening's mood was set by the unique musical stylings of Wisteriax (Karen Langlie), who uses electronic effects and her cello to evoke a soundtrack of Poe's stories. Setting the scene with eerie cries of mourning, whispering winds and by picking her cello with a feathered quill, she filled the audience with dreadful anticipation.
The first half of the show featured Poe's words being brought to life by five accomplished writers and poets. In a reading dedicated the famous Prince of Darkness, actor Christopher Lee, Meg brought "The Raven" to life. This slightly dark, shadowy space was an evocative setting and Meg took full advantage of dynamics and pauses to invoke a solitary chill. Eric Stanway followed with a magical reading of "The Haunted Palace," pulling the audience into a vision of the fantastic and cold place.
Regie O'Hare Gibson, co-creator of the Art Ensemble of Boston, was a major highlight, creating a warm and intimate environment while sharing the story of how a partial copy of Poe's work shocked him into poetry as a child. Just when we all felt warm and safe again, he brought Wisteriax back and she improvised as he read "The City in the Sea." Wisteriax wrapped us in seaweed and dark spirits as Regie lyrically reciting cold memories of water-buried Atlantis. The two of them passed the story back and forth from words to music like they had some sort of telepathic connection. The effect had chills running along my skin.
Clearly an educated fan of Poe, Jim Dunn choose various selections from Cory Light's Unknown Poe. He read an earlier work, and while it evoked the common themes of sleep and death with elegant words, it was simpler and less raw than Poe's later writings. Jim also shared the story of The Worthen House, a pub in Lowell, where it is believed that Poe wrote "The Raven." With a reprise of his previous performance of "The Conqueror Worm," Eddie Dyer led the audience to the brief intermission as small bits of worm (gummy, that is) dropped with gruesome, weighted thuds to the floor as he intoned "It writhes! – It writhes! – with mortal pangs, The Mimes become its food, and seraphs sob at vermin fags, In human Gore imbued."
The audience was given a chance to pause and recover from the darkness before the stage came to life with dancing. Inspired by "The Masque of the Red Death", a masked Ameena performed with two dancers who turned with clockwork precision as she elegantly moved among them. As the dreamy music changed to the ever powerful Carmina Burana, she transformed into a mummy-like Red Death with a commanding and horrifying mien, mercilessly gathering the souls of the audience.
Badriya al-Badi'a brought elegance to life as she danced "The Lake". Her costuming worked perfectly with the lighting, her gracefully flowing movement mimicking exactly the glitter of light and shadow at a lake's edge, with her shimmies sending tiny ripples outward. Seeing the stylings of Egyptian Oriental dance used to such incredible effect in this environment really excited me from a dancer's standpoint. The emotion and image she masterfully portrayed spread subtly yet clearly to the audience, drawing us into the lake using her entire body to communicate mood and sensation.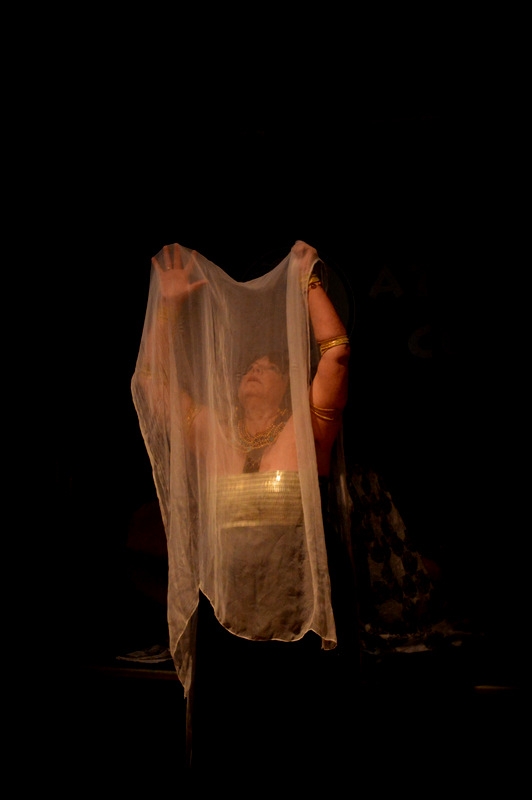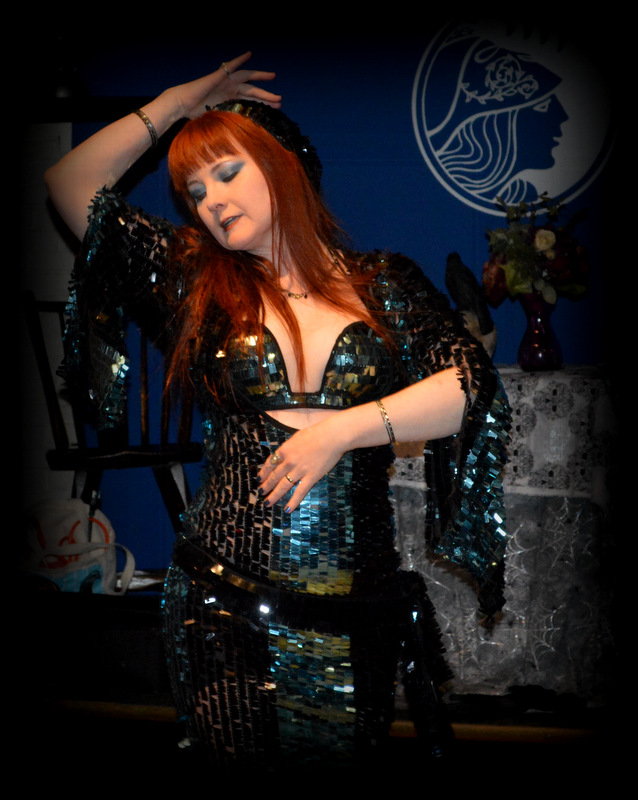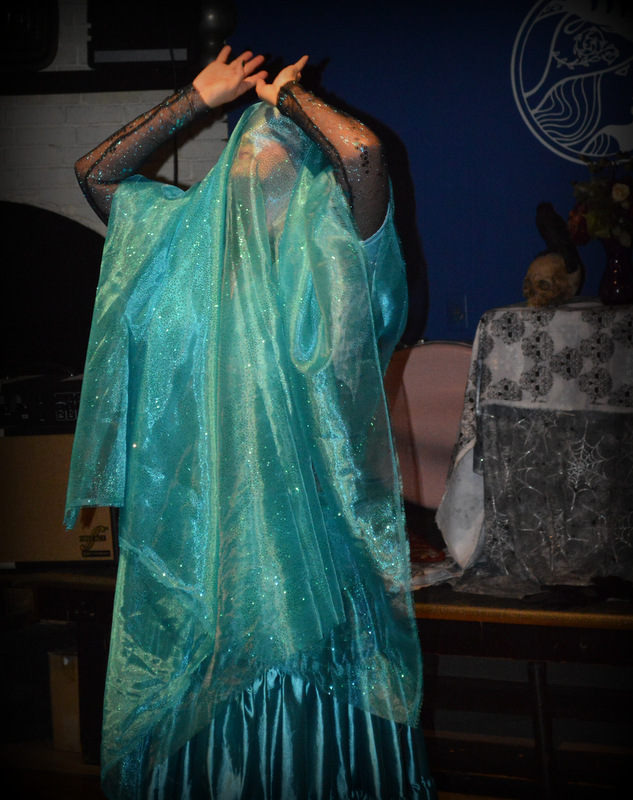 Photos by Heather Barker. Used with permission.
Morgana Mirage took the floor as a dancer, inspired by Annabel Lee, to perform to Poe's "The Kingdom by the Sea". Morgana took a great risk and shared herself with us; not just the sadness of grief and loss, but also her love, passion, adoration,and joy. "The Crystal Ship" by the Doors was the perfect vehicle for her heartfelt, honest performance, saying more than words ever could. It was not hard to know who she was dancing for, even if she announced it before hand, and it was a beautiful demonstration of belly dance as a form of personal expression, strong and sweet.
Coming from another direction entirely, Alizah Afet brought a mummy's dream to life in "The Blood of the Scarabeus," inspired by "Conversation with a Mummy." Dressed and initially moving with the haughty, otherworldly poise of an Ancient Egyptian queen, she alternated between angular Pharonic positions echoing the classic Egyptian funerary poses seen on tomb walls and the graceful snakelike movements of a living, warm blooded woman. This duality of spirit ultimately lead to an invocation resulting in a glowing magical scarab appearing in her hands, and we felt her joy at its arrival.
Moondance Collective closed the show with an abstract, dream-like duet inspired by "A Dream Within a Dream." Constrained by fabric, they moved towards and away from one another, intertwining, mirroring, and entwining to create tension would collapse, only to rise again in intensity.
The Edgar Allan Poe Poe Show IV was a pleasure to attend and is an excellent example of what makes for a successful event. It was diverse, including music, visual arts, performance, drama, poetry, and storytelling. This provided interest for the audience and created an opportunity for the appreciation of different art forms. Being in a small, intimate venue, it brought the performance closer to the audience, creating a connection and engaging their interest. A big stage show is fun, but smaller shows break the invisible glass between stage and seating, performer and audience. It takes risk, courage, and work to create an intimate show like this, yet it brings live performance not only to the people, but among them. This show was clearly a labor of love. Thank you to Morgana Mirage for her vision and her work.